What gifts can you receive with Pascal K'in?
Wonderfull that you found us in cyberspace, receive a heartfull welcome to this only page in English! Finding Pascal K'in is also finding his healing space in the Cloud Forest in the Sierra Norte de Puebla in Mexico, as well as his services to mankind, what has meant finding health, happiness and fulfillment for so many people – and beginning a new chapter of life, rewriting their "story of life", as he calls it. Pascal K'in Greub, a former swiss economist and actor, has emigrated to Mexico 20 years ago, following his dream and leaving all his past behind. He lives in his Nature Healing Park SEMUK Valle San Lorenzo far away from civilization as a healer and medicine man, and rarely travels where he is invited to with his unforgettable lectures, workshops and healings. – You will find information about his principal services between superior spiritual knowledge and its implementation in everyday life:
Spanish Website
– German Website
What do I find at the Natural Healing Park SEMUK in the Sierra Norte de Puebla, Mexico?
The Natural Healing Park SEMUK on the banks of the San Lorenzo River, is a magic and lightful dream in realization since its beginning on the SOLstice of June 21, 2016, primarily to honor the ancestral teachings of "Ancient Mexico" that Pascal K'in received in Chiapas and to return educational value and integral health services to the indigenous population of the area – some of whom still speak Nahuatl or Totonac. SEMUK is located 23 km from the nearby small town of Zacatlán de las Manzanas, Puebla, 2 hours from Puebla and 3 hours from Mexico City. It wants to be a "Modern Monastery", a "Protected Biosphere of Cloud Forest" and a "Holistic Lodging", open for interested people and tourists from all over the world. Especially for the inhabitants of the Sierra, charitable services such as a healing evening are offered every Wednesday. Pascal K'in is based there, continuing his research work in curanderismo, nagualismo and diversified organic agriculture and his service of healing and teaching in the new consciousness.
More about SEMUK (Spanish)
Stone room
… in the entrance building, with fireplace, for workshops, yoga, meditations and energy classes (size 90 m2). Next to it you find the reception, the lobby-dining room and the collective kitchen. See Pascal K'in's events at SEMUK. You can also rent this incomparable place! Write us an email.
---
Eventos en SEMUK
Lodging in SEMUK
… in the second building, 6 double rooms and 1 living room with kitchen and 6 single beds with beautiful view to the river. Shared bathrooms with stone walls and bamboo for ecological concept, to take care of the river.
---
More information about lodging and gastronomy at SEMUK
Tours to the 2×7 natural altars
… including different pilgrimage trails along the most important natural altars in the Healing Park, such as the Fern Tree Forest, the Cascade and Angel Waterfall, the healing springs, the Fairy Plateau, and the Blue Pond. In the guided tours, the emphasis can be established according to the group (e.g. "forest bathing", ancient cultures, shamanism, consciousness).
---
Natural altar trails (Spanish)
"Come to a healthy environment and all the chemistry of your cells and thoughts will regenerate in a magical way."
Pascal K'in Greub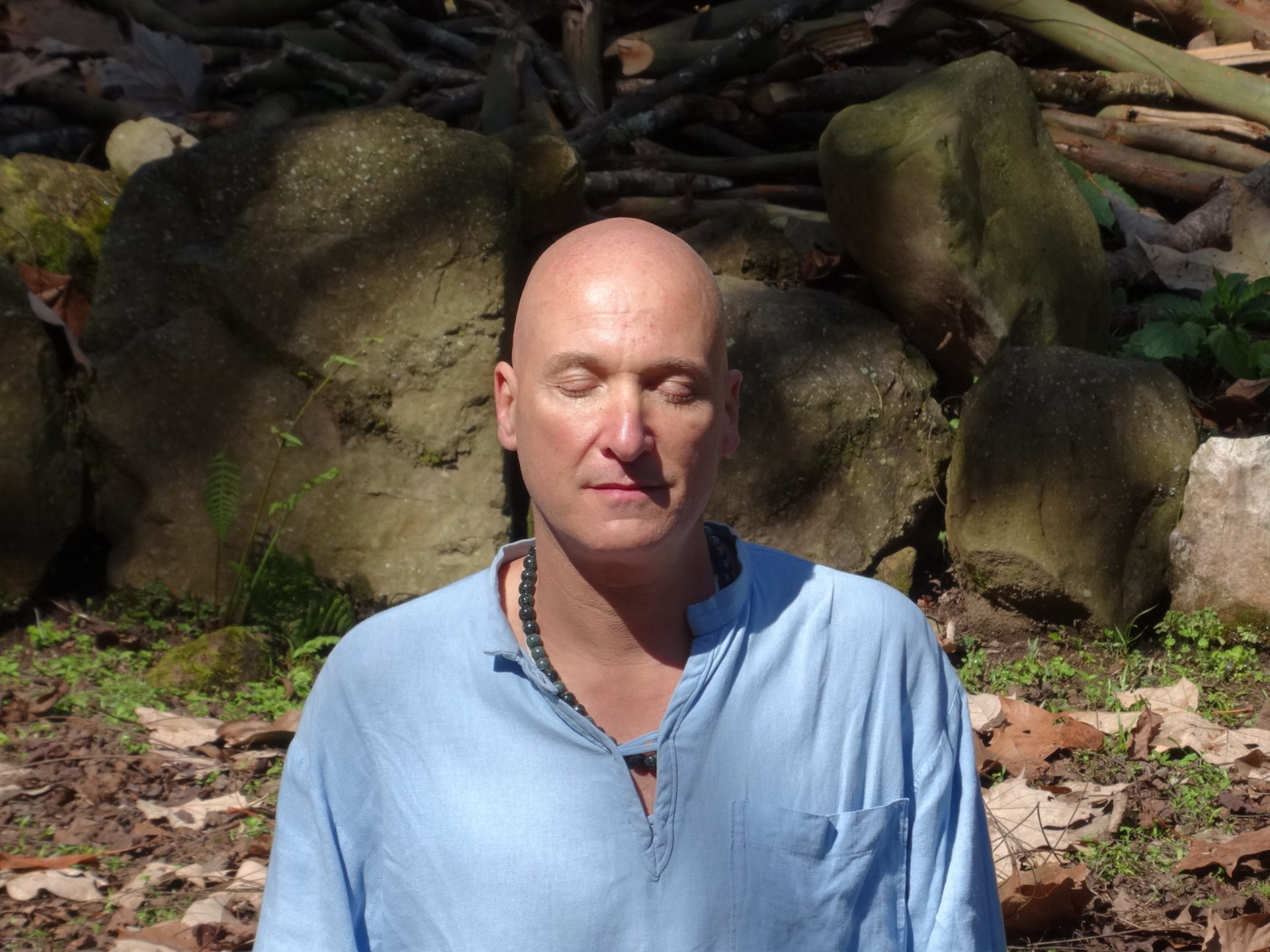 ¿Who is Pascal K'in?
Pascal K'in Greub, born in Zurich, followed a dream 23 years ago and stayed in Mexico. He met the Mayan Priester he saw in the dream and learned during 13 years with him. He is a mayan medicine man and wisdom keeper of the "cosmic theater". He is active as a healer and lecturer worldwide and now lives in a virgin river valley in the Cloud Forest, in the Sierra Norte de Puebla in Mexico, far from "civilization", where he supervises the healing center SEMUK and tries a new, healthier, independent and creative way of life. He has been invited to more than 15 countries in Europe, Asia and Latin America with his cosmovision of the so called "Heart Time method" and his healing work of the "Invisible Healer", all tools for the New Era to come.
More about his life (Spanish)
"Let us not try to look for salvation outside,
but understand that it is ultimately
within ourselves.
We are the creators of the future of this planet."
Pascal K'in Greub
Teaching by Pascal K'in Greub
The essence of my work is to open the heart to integrate what was not included before, thus raising the level of unity – which results in the expansion of consciousness. Therefore, for a Maya, heart consciousness is the human being himself, his relationships, his spiritual and multidimensional performance; it merges with the cosmic consciousness that can be reached by any person in this life. In the workshops we achieve this through laughter, sacred physical-energetic movements, ceremonial elements with the presence of higher intelligences, as well as the use of symbologies and codes that were given to me. In this way we reach very high states of consciousness, by changing the inner quantum chemistry, without the use of psychotropic substances.
More about his teaching (Spanish)
If we finally accept that our soul comes from the source, guided by the divine spark of the spirit, we can understand that our stay on this planet, called life, incarnated in our body, is a trajectory of experiences to simply and humbly learn, it is a totally natural spiritual evolution. This makes us more respectful towards the millenary and initiatory teachings which give us the existential information to heal, transform and remember. In order to achieve this, I connect with my "linages" of different cultures, their temples of higher knowledge and their living relationships with beings of light and the world beyond.
Just as in this life I was able to learn with great masters, living and ascended, to find my path, I will never impose my worldview on you; may it only serve to make the neuronal sparks jump and infect you, perhaps, with my love, my energy level and my strength of manifestation! I am only here to accompany you and lovingly push you to find your path and discipline, as well as the power of your freedom to walk it. I can teach you my access to the initiatory schools of Lord Pacal, of Shambhala, of Aztlan, of Alexandrina, of King Arthur, … and my ways of communicating with the angels and "Star Elders or Elder Brothers", but what counts is that you yourself discover your "friends from beyond" and your "linages" and your "channel" that are important for your development at this moment.
Be welcome, thank you for recognizing me in your wonderful being,
in lak'ech
. May God bless you and your loving ones in these transitional times.
Om shanti.
I am at your service, as we say in Mexico. With a warm hug, Pascal K'in Greub.
Meditation for Devin Bratislava
Interview in English and Slovak about high frecuency, with exercise and meditation.
In the second half of the video, accompanying the interview after the meditation, we show pictures of may workshop in Bratislava 2011, on the power place of Devin (Theben in German), national power site of Slovakia where we were blessed with the spiritual presence of Medieval Masters and high Monks, and invited to share their School of Minne, Love and Tantra iniciation. A unforgettable moment for the whole life! – Skype Video conference for Bratislava, transmission from Malinalco, Mexico, 29 september 2011 .
Healing meditation and chocolate ceremony Prague
Mayan healing and abundance ritual at the EVOLUTION-Festival, 11. 4. 2014 (MAYSKÝ LÉČIVÝ RITUÁL). With an extraordinary loving Czech public Pascal K'in shared his wholy and practical work for every day blessings during several years in Prague, Czech Republic, where he was called to close his own history of a past live and to fulfill collective healing in Prague on a continental level of energy balance.
Section for Organizers
Pascal K'in travels where he is invited to, as it happened in almost 20 countries in Europa, Asia and the Americas. We adapt to your visions of duration and topics. However, it is only possible to travel if either the flight and lecture fee is paid in advance or if 2 month before we have reached the minimum number of paid participants that we had agreed together. Here we share a mix of events which has worked very well being on tour: Wednesday and Thursday a Evening event, Friday (or Saturday) to Sunday a Workshop or Retreat, the mornings we can use for individual sessions.
The present Workshops or Retreats we would love your audience to experience: Shamanic Healing Heartbeat and your Dragonpower, Ancestors and Masters, Your Soulplan and past lives, Lightbeing and Lightlanguage, Activation of 12 Lightbodies and Lightgenes, the Invisible Healer (healing method with 5 moduls).
Write us your ideas and we will get in contact with you soon! Thank you!
Pascal K'in's teachings, healings and transpersonal workshops bring you three levels of committed energywork: a new wisdom, a new inner process and new tools to earth down the divine in everyday life.